Industries We Served :
Deepak Brass Industries engaged in manufacturing and Exporting of Electrical Connectors and Components featuring High Conductivity Electrical Cable Gland, Battery Terminal, Transformer Part, Neutral Link, Pins and Sockets, Brass Terminals, Brass Energy Meter Part, Brass Switch and Fuse Part, Couplers, Clamps and Spacers, Electrical Lugs, Sealing Screw, Brass Screw, Nuts, Bolts and Washers.

Electronics Connectors and Adaptors includes Co-axial Connectors full Range of BNC Connectors, N- Connectors, UHF Connectors, F type Connectors, TNC Connectors, SMA Connectors, RCA Connectors, MMCX and MCX Connectors, Banana Plugs, PAL Series etc.  We also manufacture Complete CCTV Camera Accessories ready to use kit including DC Plug (Camera Pin), RCA plug with BNC Connector for Video Transmission etc molded with desired length of High Quality Cable. A Complete Range of Audio/Video Connectors with Facility of molding Cord, DC Plugs, EP Plugs, Stereo Plugs, P-38 Plug etc. Other Electronics Accessories includes T- Jointer, 4-Way Jointer, T Jointer F to F, 4 Way Jointer F nut, Jointer  ( Mini and Heavy ), Cable Jointer, Cable TV Connector, Tata Sky Connector, AC Power Stopper, Antenna Parts, CATV Attenuators , 5/8'' connector, Mobile Jointer, Dummy Load, BTI - 5 ampere, 15 ampere and 30 ampere, Customized Turned Components for Electronics Assembly etc. are of high performance with long mating life Cycle.

Various Fittings such as Brass Insert for Plastic Pipe, Instrumentation Fittings, Air Brake Fittings, Hydraulic Fittings, Compression Fittings, Pneumatic Fittings, Bottle Gas Fittings and Gas Connectors, Nozzle and Orifice, Grease Nipple, Garden Hose Fittings and Hose Barb, Hose Ferrules, Brass Tank Connector, Roto-moulding Tank Connector etc. are being manufactured for the Engineers and By the Engineers.
Our Architectural Builder Hardware and Decorative Furniture Components includes Hinges, Latches, Cabinet Furniture Fittings, Aldrops, Baby Latches, Door Stopper, Door Chain, Door Eye, Brass Anchors, Glass Fittings including D Bracket, F Bracket, Rectangle Pivot Bracket, Glass Self Button, Special Folding Bracket, Glass Connector, Glass Holder, Mirror Holder, Mirror Cap, Diamond Studded Mirror Cap, Corner Bracket, Tower Bolts, Catchers, Curtain Sockets and Curtain Brackets, Hooks, Wardrobe Fittings, Rings and Bars with any Customized Decorative parts or Interior Decorative Part or Hardware Parts in Brass, Copper, Aluminum, Stainless Steel  High Grade Material.
Deepak Brass Industries, India manufacturers Faucets and Plumbing Parts with Gracious Beauty and high Durability with wide range of Bath Faucets and Kitchen Faucets, Brass Faucet Spindle, Brass Faucet Cartridge, Towel Holder Bar – 18'' , 24'', 30'', Double Towel Holder Bar. Tissue Paper Holder, Towel, Holder Ring, Robe Hook, Water Supply Hose Connector, Brass Jali, CP Rack Bolt, Escutcheons / Flanges / Smitty Plates, Extension Nipple, Red Brass Barrel Nipple, Lead Free Brass Nipple, Hex Nipple, Bath Drain, Waste Coupling, Ball Valve, C.P. R.O. Valve for Water Purifier system and Brass Tank Connector.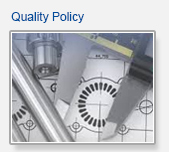 Our extensive experience allows us to offer sound technical support services, from design advancements to testing and commissioning of the product. Due to strict quality control procedures our customers are ensured that their requirements are met accurately and consistently.

The quality control department is equipped with all the necessary testing equipments, used by a technically qualified team. Quality control forms an integral part at every stage right from receipt of raw materials to delivery of finished goods. We strive to delight the customer by continuously improving the quality of its products and services through Continuous up-gradation of Technology, Process and Systems.

Various tests like Hardness test, Conductivity Test, Roughness test, Impact Test are carried out to make sure our products can measure up to international standards besides our regular inspection check up on Profile Projector and through Vernier Caliper and Micrometer with utilization of Thread Gauge, Ring gauge and Plug gauge on and at Working Cycle during continuous Production.

The entire team of the company works as one functional unit towards a common goal of efficient Quality Management. The QM system is ISO 9001:2008 certified.
Why DBI?
Deepak Brass Industries working with the firm mission of manufacturing Quality product that Prosperous us together and so our focus is on Commitment to customer satisfaction at all levels. We endeavor to increase our customer's profitability by providing them the Superior Grade Quality for Prosperous Business and Living Standard. In all aspects of our business we will remain committed to honesty, integrity, and excellence.

Processing Material:

Brass & Special Copper Alloy Such as BS 2874 CZ 121, UNS 36000, BS 249, Red Brass, Lead Free Brass, Stainless Steel 202, 304, 316, Aluminum, Phosphorous Bronze.

Machining Facility:
Brass Bar Turning & Machining on Automatic Lathe
Brass Bar CNC Machining and Turning
Brass Forging plus CNC Machining
Brass Casting + CNC Machining
Design Aid Software:
AutoCAD 3D, 3D Max Studio , Pro/Engineer
Every potential customer enjoys several intrinsic advantages that come with our service. They include our
Expertise in manufacturing turned parts using alternative metals and in varying dimensional accuracies ranging from 2 mm to 85 mm.
In House Production facilities to support both low as well as high volumes
Flexible and trained workforce
Quick response and compliance with lead times
Modern equipment and proven inspection procedures
Competitive Pricing based on micro costing
Customized boxing and packaging
Logistics & Shipment Support